Use our pattern information to create your very own beaded kumihimo braid - this project features black AB and crystal clear AB long magatama beads.
MATERIALS REQUIRED
140 x Opaque Rainbow Black Long Magatama Beads (approx 16g)
140 x Crystal AB Long Magatama Beads (approx 16g)
2 Glue-In Leather End Caps
2 x 6mm Strong Jump Rings
1 x 14mm Parrot Clasp
#9 White Nylon Beading Cord
TOOLS REQUIRED
Round Kumihimo Board
Thread Zapper
E-6000 glue
Big Hole Beading Needle
8 Bobbins
Large Keyring
INSTRUCTIONS
This project works with an 8 warp round braid and beads. We have used a mix of opaque rainbow black and crystal AB long magatama beads. Use the following pattern information and work with our beaded kumihimo project to recreate this project on your own!
opaque rainbow black long magatama beads on strands #32, #16, #1 and #17
crystal AB long magatama beads on strands #8, #24, #9 and #25
these beads are a little tricky - they are drilled on an angle. As such, you need to ensure that you thread the beads in the same direction. I found it easiest to thread "up" through the hole. Check you're on track by looking back at the line of beads, they should fall in line.
for a bracelet, we used 35 beads on each strand (this creates a 17.5cm beaded section - every extra bead added to a strand adds about 0.5cm to the beaded length - note that this creates quite a thick bracelet, so it does need to be longer than normal). Ends, rings and clasp will add about 3cm to the overall length
size #9 nylon cord works well with these beads, we used about 0.6m per strand (ie about 4.8m total)
size #9 nylon cord produces a 3mm "plain braid", fits well into 3mm glue in leather ends
see our beaded kumihimo project for basic instructions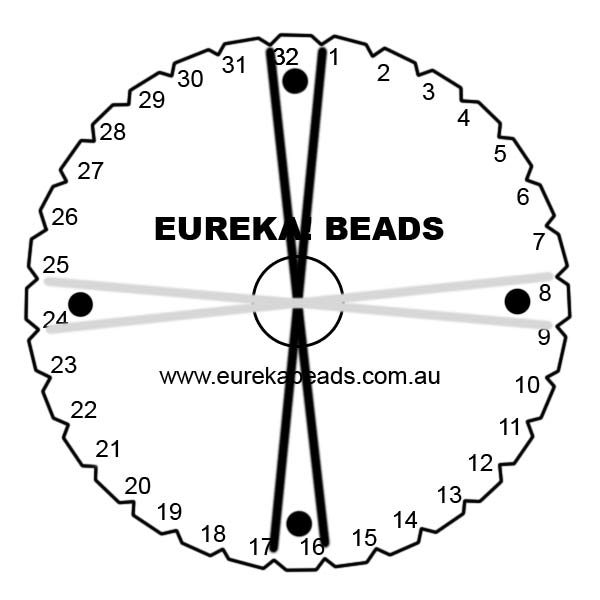 © www.eurekabeads.com.au These free beading instructions may be used for personal use only [EX05855]
Recent Posts
Use our free pattern information to create your very own beaded kumihimo braid - this project featur …

Use these simple wine charms to keep your drinks separate at your next party - perfect in this COVID …

Handmade from glass beads, crystal, metal beads and findings, this tin soldier is a perfect decorati …