Use our pattern information to create your very own beaded kumihimo braid - this project features pink 6/0 glass seed beads and purple 6mm bicone glass crystal beads.
MATERIALS REQUIRED
180 x 6/0 Pink Glass Seed Beads
2 Glue-In Leather End Caps
2 x 6mm Strong Jump Rings
1 x Fancy Clasp
#9 Black Nylon Beading Cord
Large Keyring
60 x 6mm Purple Bicone Glass Crystal Beads
TOOLS REQUIRED
Round Kumihimo Board
Thread Zapper
E-6000 glue
Big Hole Beading Needle
8 Bobbins
INSTRUCTIONS
This project works with an 8 warp round braid and beads. We have used size 6/0 seed beads as the base beads, with 6mm bicone glass crystal beads as a feature. Use the following pattern information and work with our beaded kumihimo project to recreate this project on your own!
purple 6mm bicone glass crystal feature beads on strands #32 and #16
pink 6/0 glass seed base beads on strands #1, #8, #9, #17, #24 and #25
for a bracelet, we used 30 beads on each strand
size #9 nylon cord works well with these beads
size #9 nylon cord produces a 3mm "plain braid", fits well into 3mm glue in leather ends
see our beaded kumihimo project for basic instructions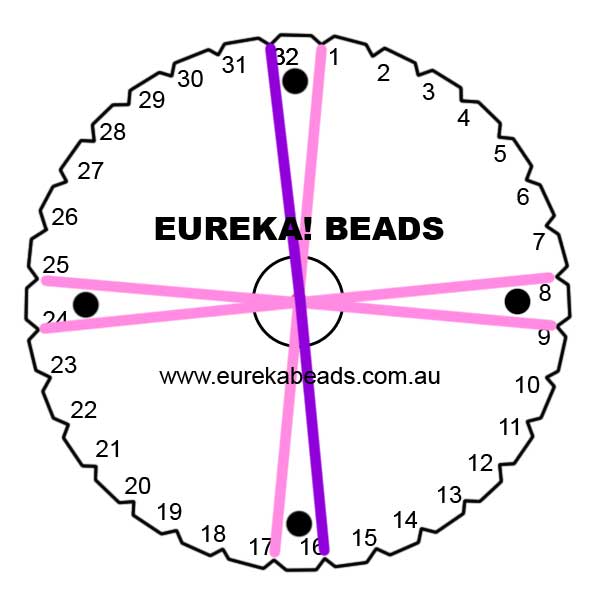 © www.eurekabeads.com.au These free beading instructions may be used for personal use only [EX45851]
Recent Posts
Use our free pattern information to create your very own beaded kumihimo braid - this project featur …

Use these simple wine charms to keep your drinks separate at your next party - perfect in this COVID …

Handmade from glass beads, crystal, metal beads and findings, this tin soldier is a perfect decorati …