In this project, we use sparkly plastic diamantes and a round metal cameo setting to create a bling mosaic pendant. Follow our simple instructions to find out how!
MATERIALS REQUIRED
35 x 3mm amber round plastic diamantes
35 x 3mm brown round plastic diamantes
8 x 4mm red round plastic diamantes
1 x 30mm plain round cameo silver setting
1 x 70cm bright silver ball chain necklace
TOOLS REQUIRED
E-6000
Beadsmith Jewel Setter
INSTRUCTIONS
Spread a small portion of glue along one corner of your metal cameo setting. Use jewel setter to pick up and place the small plastic diamantes into the glue, alternating colours. Repeat this process of glue and diamantes across the whole cameo setting, interspersing the larger red plastic diamantes. Leave for 6 hours to allow the glue to set.
String onto your ball chain necklace - your necklace is now ready to wear!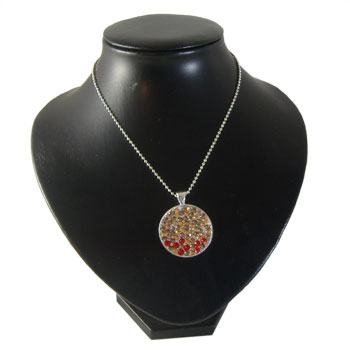 © www.eurekabeads.com.au These free beading instructions may be used for personal use only [EX06481]
Recent Posts
Create this great phone charm strap made using size 6 seed beads and cute feature beads.MATERIALS RE …

Create this fun necklace made using size 6 seed beads and cute feature beads.MATERIALS REQUIRED 150 …

Stretchy elastic is a great medium to work with - once threaded up, your ring will be easy to slip o …